Golden Hammocks
Our Mission
Inspired by our world travels over the years, never have we been so struck by any one item or piece of culture as by the Brazilian hammock. For all night sleeping or an afternoon escape, this unique piece of furniture is what originally inspired us at Golden Hammocks to design our complete line of hanging furniture that brings you the healthy relaxation and great back support you need.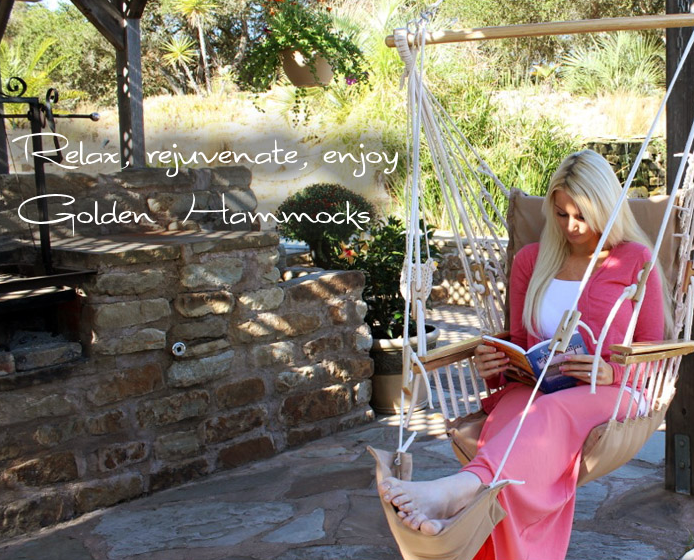 Since the dawn of our business in 1980 we have developed out products with the highest level of integrity, with the greatest attention to detail, and with the best materials available. From refined design to raw material to finished product, our standard of quality is never overlooked. We annually visit our supplier to ensure that the products meet our own specifications. Using only the finest 100% cotton, the strongest hardwoods, and the most durable hardware, we combine beauty with security and comfort.
Quality Assurance
Beautiful hand loomed 100% cotton hammocks are made by the best weavers in Brazil. These Brazilian beds are adorned with decorative hand crocheted fringes, creating an elegant look that complements any indoor or outdoor setting. The weight bearing "arms" are made of heavy cotton cords. The ends of the hammock, where the arms join the woven fabric, are finished in hand-macrame for extra strength..
We have perfected the strongest hanging system in the industry. We use only weather and wear resistant interlocking welded chain for our chair top - the part that bears all the stress. Our wooden dowels are made from the finest northern white ash, rounded and smoothed at the ends. Wooden pegs hold the reinforced cotton tops in place, yet the cotton chair body can easily be removed and machine washed.